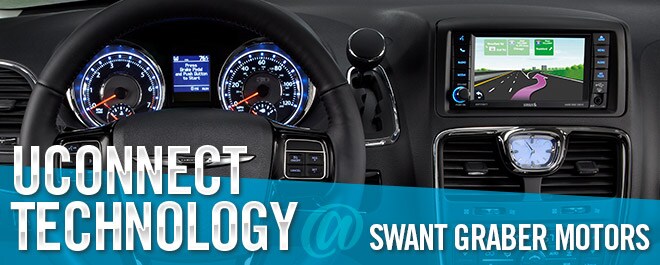 Chrysler Fiat--the umbrella that Dodge and Ram fall under-offers drivers a premium infotainment experience that's sure to make each drive more enjoyable than the last. The Uconnect Theater brings a number of innovative features and key systems that welcomes each and every driver to the new automotive world. The system features everything from music to navigation, providing drivers with everything they need in a single system.
Radio & Entertainment
The Uconnect Theater kicks things off with SiriusXM Tune Start and SiriusXM Satellite Radio, two premium offerings. The former starts songs from the beginning when you switch radio stations, while the latter offers more than 150 radio channels for drivers to explore. Listen to your favorite sports, commercial-free music, news, comedy, and more online or through the app via the Uconnect system. As an added bonus, HD Radio provides high-quality sound and more stations to choose from.
Complete Vehicle Control
Uconnect lets you control your cabin temperature, adjust your radio, and will also update you on when service and maintenance is needed. The vehicle user guide houses your complete owner's manual so you can look things up quickly. Its interactive touchscreen display also acts as Parkview® rear backup camera. Parkview® will assist you when backing up which will help you avoid accidents. With Uconnect, you have complete control at your fingertips!
Hands-Free Connectivity
No modern vehicle is complete without Bluetooth connectivity that allows drivers to stream music from their compatible smartphones. Drivers who take advantage of the Bluetooth connectivity can control their smartphone through voice commands. Place calls or read and send text messages without ever taking your hands off the wheel.
Navigation
When it comes to navigation, the Uconnect Theater has every angle covered. The standard navigation system uses sensor-assisted GPS to track your vehicle through tunnels, parking garages, and more. SiriusXM Traffic and SiriusXM Travel Link offer constant updates on traffic glow and weather forecasts. Drivers can even find points of interest through simple voice commands, ensuring every trip is an enjoyable one.
Whether you're looking for entertainment, navigation, or optimal connectivity, you'll find it in your new Dodge or Ram vehicle equipped with Uconnect Technology. Sit behind the wheel of a new Ram Truck or Dodge Charger equippied with Uconnect and experience it for yourself! Visit Swant Graber Motors in Barron to learn more about Uconnect's capabilities. Our dealership is proud to serve customers from Eau Claire, Spooner, and Rice Lake.