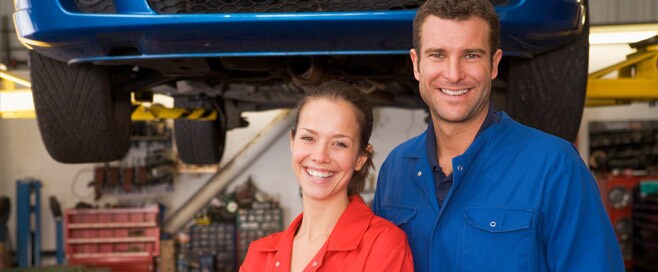 Here at Swant Graber Motors, our service department is frequently asked the same questions by customers about their cars. Sometimes, these questions are asked much later than they should be. To help you avoid car trouble that's easily preventable, here are the answers to frequently asked car service questions:
When should my motor oil be changed?
How often you need your engine oil and filter changed varies based on the car you drive and the warranty it has. The earliest that you should get it changed is at approximately 3,000 miles, but many vehicles can handle it every 5,000 miles. If you use synthetic motor oil, it can sometimes be even longer. But, since not changing your oil can permanently damage your car, there's no such thing as changing it too often.
Should I use conventional or synthetic oil?
Over the years, synthetic motor oil has been engineered to surpass the qualities of traditional oil. If you want superior performance and economy, and aren't restricted to using only conventional oil in your car, we recommend trying synthetic.
How often should my tires be rotated?
Because tires wear unevenly, we recommend having them rotated at the same time you get your engine oil changed. This will extend the life of the tires and keep them in better shape.
When should I have my brakes checked or replaced with new pads?
Don't wait until your brakes lock up to have them checked for wear. Keep your ears open for a squealing sound, which is a wear indicator that sounds when it rubs against the rotor. You can also ask to have these inspected when you get your oil changed.
What should I do when my vehicle reaches 100,000 miles?
100,000 miles on the odometer is the perfect benchmark to have your car undergo a complete inspection and tune-up. Equipping it with new parts that have worn out will start the second half of its life on the right foot (or wheel).

How frequently should I check my car's fluids?
Once a month, make sure your anti-freeze, power steering, wiper, and other fluids are topped off.
Do you still have questions that were not answered? Make sure you stop by the Swant Graber Motors Service Department. Our trained staff will be happy to help!